Ay, folks. Sorry for the recent lack of updates. I've been out of town, and when I go AWOL, I have this awful habit of not updating or taking photos or anything. It's not hard for me to go off the grid when on vacation because I'm that lazy. Anydangway, last weekend was the sixth annual three-day Fun Fun Fun Fest in Austin, Texas, to which I attended for the fourth time. Starting today, I'd like to post some half-hearted reviews and personal opinions about each of the three days of the festival, one post to a day. Fun Fun Fun Fest started in 2006 at Austin, Texas' Waterloo Park, and only drew about 2,500 people. Since then, the festival has been moved to a larger venue, Auditorium Shores, and attracted an estimated 15,000 people per day last weekend. Central to Fun Fun Fun Fest is the concept and value of independent music, and the provider Transmission Entertainment's method of fleshing that out was to annually construct and run various stages simultaneously according to genre. For instance, both this year and last year, there have been four stages that show-goers could frequent at their leisure: the orange (and, arguably, primary) stage for indie rock, the black stage for punk rock and metal, the blue stage for electronic and hip-hop, and the yellow stage for stand up and various catch-all acts. Add in some merch tables, tents for local businesses, creepy corporations trying desperately to reach the hipster target market (Camel, Marlboro, Sony, Toyota), and great local food vendors, and you have one kick ass music festival. In my opinion, it is better than ACL, but because I am too poor to attend SXSW, I will not even go there. So I got my ticket early and went this year. This is what happened on Friday, November 4th.
Because I had a two-and-a-half hour drive ahead of me and had worked the night before, I showed up too late to see Cloud Nothings, which is unfortunate, because someone the next day told me that their set was great. That said, I did everything in my power to make Pictureplane's set, going so far as to arrive well in advance in order to orient myself and find a spot. My girlfriend and I got into position well before the ending of YACHT's set at the blue stage, which, despite official coverage, was awful. Of course, that could be chalked up to the fact that I don't like YACHT's music, but either way, they came off as being attention whores. Pictureplane sailed into Fun Fun Fun Fest at the tail end of his "Check Yo' Ponytail" tour, along with Big Freedia and Spank Rock, so his stage was pretty well decked out in the most garish way possible. We were standing right at the front next to a speaker, so our hearing was unfortunately already shot by the time Pictureplane took the stage. He kickstarted with "Real Is a Feeling", and the sassily delivered declaration, "Hi, my name's Pictureplane, and I want you all to feel good forever." Turning it up to 11 and piping in the scuzz liberally, Travis Egedy paced back and forth in his awful hipster attire, singing, tweaking, dancing, and grabbing his crotch like a real brother. To his left and right danced two very strangely clad figures whose genders were predictably masked (Pictureplane is gay.) until he rolled out "Post Physical", in which the sirens' faces were partially unveiled. All in all, it was a psychedelic and surreal experience, and it was the best set I saw all day. Highlights included hearing Egedy dedicate "Goth Star" to both Michael Jordan and extra-terrestrials, being told over bombastic electronics that I can do anything I want, and watching the aforementioned artist execute a Tobias Fünke-esque somersault onto one of the dancer's mini-stage. A good time was had by all.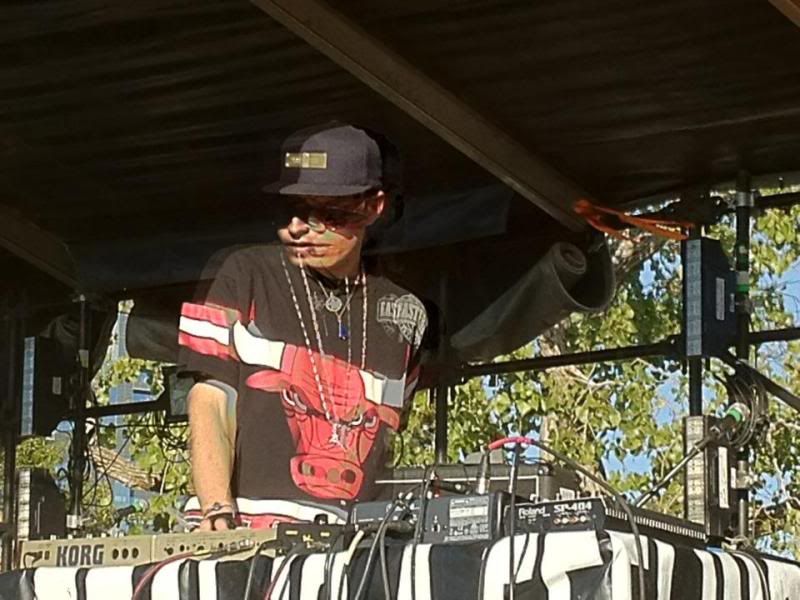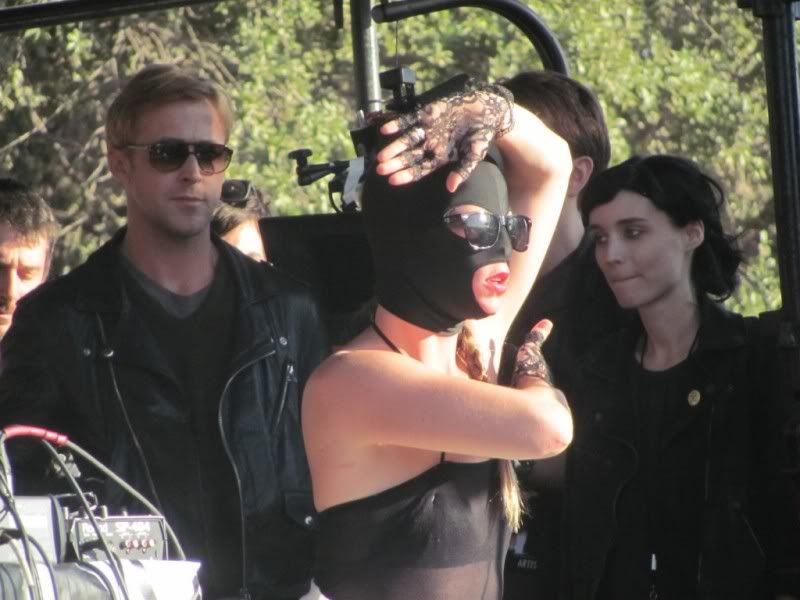 We decided to skip out on Russian Circles' set for several reasons. We were still trying to find our footing at the huge new venue, they have played every goddamn year for years, and I guess I'm just kind of over post-metal.
We staked out Four Tet's set, and my girlfriend got some good HDR photos of his surreal performance. Unfortunately, despite how chill his opener was, his set quickly devolved into the electronic noodling that Kieran Hebden is wont to do. After about ten or fifteen minutes of auditory nothingness, we moved on, which is a good thing because I hear Public Enemy started soundchecking really loudly over his set for about fifteen whole minutes. I also heard they were full on trying to get the audience all hyped about their upcoming set while Four Tet was still playing, which is incredibly douchey. I don't give a fuck if it is Flavor Flav, the word around the internets is that level of rudeness had previously not been reached at a Fun Fun Fun Fest before. So, despite the fact that Four Tet's set was, in fact, kinda droll, I just wanna say fuck Public Enemy. Thank you very much.
We rounded that short first night out with Passion Pit's headlining set at the Orange Stage. As a casual Passion Pit fan, I was excited to see what kind of energy their show had to offer. Unfortunately, it was pretty disengaging. Apparently, they hadn't toured in nearly a year, so perhaps they were just rusty. In addition to that, I have myself partly to blame because I turn into a whiny bitch when bands play music I don't recognize, within reason, of course. Because I'm more familiar with their debut EP than I am "Manners", the only thing I stuck around long enough to recognize was "The Reeling", which they definitely executed to great effect.
Apparently, they played some really solid tunes after we left, which is a real shame, because that lead singer is one of the worst emcees I have ever seen live. Maybe if he hadn't kept saying stupid, cliché shit between each and every song I would have been able to make it. Instead, we elected to head back to a good friend's and get to bed early, since we had an early day Saturday.
By the way, if anyone out there in the blogosphere has any inkling of what the name of that first song Four Tet played is, please let me know. I really want it.
(Disclaimer: None of these photos or video footage was taken by me, by the way.)
MP3 Download of "Thee Power Hand", by Pictureplane (from Thee Physical)
MP3 Download of "The Reeling (Miike Snow remix)", by Passion Pit
---
---